Reminder
You will always know whom to collect money from and who to give it to be it today, tomorrow, this month or this year. The reminder feature never lets you forget or search.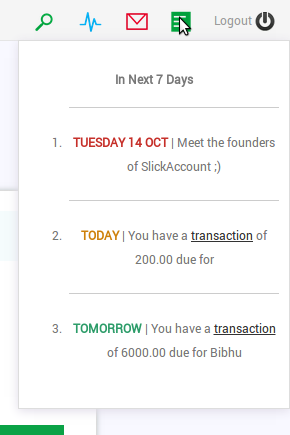 ---
Warning
Before your profit is too low. Before your Expense reaches 95% of income. Save your business from falling into unending unprofitable loop. Get warned.

We understand what kind of information is critical and when. We warn only with that and let you solve that issue. We lead you to solutions.
---
In real-time
When your expense crossed your budget.
---
Organized, Productive
Designed by productivity expert, to quickly finish your work.
Pick up only next 3 jobs in 1 day. Finish them before looking into any other. SlickAccount just simplifies when to remind your customers about the payment.
---